Church Background Checks – Background Checks for Religious Groups
Employees and volunteers working for religious organizations, churches, youth groups and faith-based sports leagues are under significant scrutiny today, leaving little choice but to thoroughly conduct church background checks on religious group participants. No one wants a negative news story due to any number of issues you could have by inviting unscreened people into your faith-based operation. This is especially true during the holiday season when volunteer workers are at an all time high. In just the past several years alone, scams, criminal activity and accusations of abuse have tainted some of the most well-known groups and religious organizations.
Are Church Background Checks on Religious Volunteers and Staff Normal?
Thankfully, church background checks have become so commonplace in the professional world, that the transition to volunteerism, contracting and non-professional situations is an easy evolution, especially since having a thorough church background check in place makes everyone involved feel better about those they are working with, knowing that they too have been screened by a professional background check agency. Parents especially should feel better about sending their child on a faith-based trip, to religion camp or to a sports league run by a faith-based organization knowing that the volunteers and staff members have all been vetted.
Religious Group and Non-Profit Cost Concerns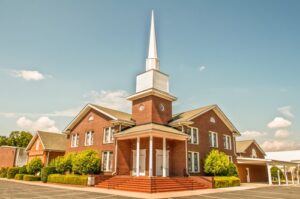 Thankfully, we have worked with a number of faith-based organizations and helped create customized church background checks at various level; including for full and part-time employees, volunteers, parents and coaches. Costs can be kept to a minimum mostly due to the nature of what is typically contained the typical church background checks. We find that reference interviews, employment verification, education verification are not typically necessary when conducting our background checks for faith-based groups, whereas criminal records, driving records and social media investigations are generally accepted as the norm. These searches also include a national sex offender search, which we recommend as standard for any religious group looking to put together a solid background check as part of their on-boarding process. Given that most of the searches we end to conduct for our faith-based clients involve criminal records data, the costs for conducting such searches can be kept at an acceptable level; not to mention discounts for large bulk projects that include large volunteer efforts, early school year screening, annual background checks and religious event background checks. We are happy to work with just about any budget to help our faith-based clients meet their needs.
Ease of Use
Given that the majority of the people who will need to have church background checks done are not full or even part-time employees, but rather volunteers, we make it easy to remotely obtain the necessary authorization from any number of individuals. Our easy online portal can be sent to your volunteers, parents or religious leaders via email or we can create a custom link just for you, allowing your participants to click, fill out the form and submit. All reports can then be directed to whomever within your organization needs to have them available for review.
A Word of Caution
While it is easy to find and use some of our online "competitors", you should know that there are no real online, national criminal data records. While Nationwide Criminal Databases sound like the perfect way to search for criminal records on someone during their background check; with the expectation of these searches looking in every state, county and city for records regarding your volunteer or employee, this couldn't be further from the truth. All of these search options come with massive disclaimers regarding their capabilities and limitations, and most indicate that they are NOT for hiring uses or FCRA compliant.
Simply put, these companies are using creative software so autonomously search as many free online databases as possible, producing very incomplete results, often filled with errors or entries on the wrong person
Background Check Central only offers professional grade background checks, and we do it at very competitive prices. Unlike most companies that provide background checks, we aren't concerned about big volume and saving money by cutting corners. We would rather help to protect our client and keep them happy for years to come.
If you are part of a religious group or volunteer organization in need of background checks, give us a call and speak with one of our live professional investigators to find out about how we can help.